May 23, 2008 Tornado
at the Lamb family farms
By Jana Lamb (jana_lamb@live.com)

Thought you'd be interested in knowing we lost our home and farmstead May 23rd to an EF3 tornado known to me as the Hopewell Tornado. It was nearly a mile wide and was on the ground for at least 10 miles. I've been wanting to write my story so I thought I would include it thinking you may be interested in my story. I say "my story" because I'm sure each one of us has a little different version, but this is how mine goes.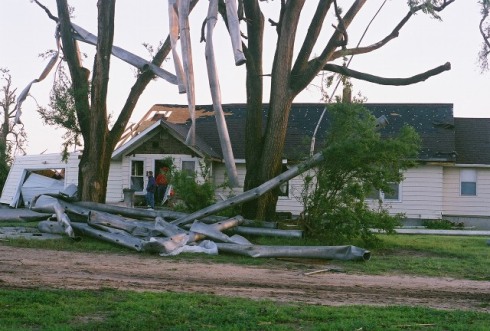 The day of the tornado:
I worked Friday at the store and the day was beautiful. While I worked I heard on the radio they said that night would be one of those nights that only happen one or two times a year. Later when the sheriff came in to the store I told him, "I was so tired last night I didn't care if there was a tornado, I was going to sleep in my own bed." (Apposed to going to the basement) He sternly told me, "Tonight will be different."

It had been less than a week since my son Keith had graduated from high school, and I had poured myself into giving him the best weekend I could and I was still exhausted. My reward and relaxation was a little TV time. I watched a couple of shows, but knew I needed to be on local television to watch the weather. Sure enough the storms were brewing near Greensburg, the town that was demolished last year, and they were following the same path that they did May 4th and 5th last year (remember the tornadoes only missed me by 3 miles the first night and one mile the second).

As the tornadoes got closer Keith and I headed downstairs. Mike had driven to Pratt for a piece of farm equipment, so Keith gave him a call to warn him of the weather, he was just leaving Pratt. It wasn't long before we lost our electricity. We had a radio in the basement so we could keep track of the weather. We found a good station that was giving fulltime weather reports. Mike's mom and my dad had called a couple of times to let us know what they knew about the weather. My dad then called and said a tornado was between Felsburg and Trousdale. Just then I heard Mike upstairs. He hollered, "Where's the tornado? Do I have time to take a shower?" I was a little miffed since he had been out driving in the weather and responded, "You decide, the tornado is between Felsburg and Trousdale." He came downstairs and we turned off the radio. It wasn't but maybe 5 minutes when we could hear that same hum of the tornado that we had heard last May 4th outside our house so I told Keith to crawl under the table that we had just for that purpose. I was next and Mike crawled in beside me. I was later saying how Mike was trying to pull his legs in under the table and Keith responded, "Well, my head was really not under the table!"

It wasn't long before I could feel my head squeezing together and remembered everyone saying how their ears popped last year when the tornado hit them. I popped mine twice. I was just praying over and over, "Lord, please protect us and keep us from harm down in this basement." We heard the glass shattering and then the house coming apart up stairs, but all along we were safe in the basement. There seemed to be a small eye and then the tearing apart of our house continued, but then it was over. It was 9:45 pm.

The radio announced another tornado heading our direction, but we knew we had a few minutes to survey the damage. The basement door must have been left open because the window in it was blown out as well as the window behind it. Glass, corn stalks, tornado and my curtains were all blown down into the basement, but we were all safe. Mike and Keith headed outside with flashlights. I grabbed some plastic tubs. I was hoping to save some of the baby pictures and family photos. All of Keith's graduation things were right where the tornado went through the house. The den was destroyed, the garage gone. Half of the kitchen was missing. The tornado blew through the entrance and the living room. Part of several ceilings were down. Furniture was thrown upside down and "tornado" was all over everything! Since so many ceilings had fallen, there was insulation thick in the air. I tried to wear a bandana over my mouth and nose to prevent inhaling it, but it was difficult, I was hyperventilating. I grabbed as many pictures and photo albums as I could before I felt like I needed to retreat to the safety of the basement again.

Mike and Keith returned to the basement and again when we heard a tornado: we crawled under our old sturdy kitchen table. I was sure we would lose the rest of the house this time, but we were not hit again. I believe that this tornado went east beside us taking down the trees along side the road. This would prove to be a problem for those checking on us as the road was now covered in trees.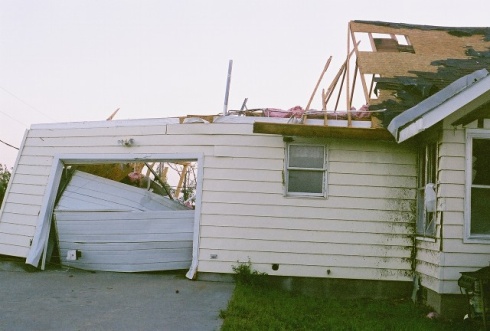 Mike and Keith again headed outside and were shortly greeted by our neighbor Ken. I headed up for more precious items, clothes for two days and my medications. Another neighbor, Glenn, also stopped by to check on us. He offered us a pick-up since all our vehicles were trapped in the shed that was falling down or in the garage that was a mangled mess. Keith headed over to Glenn's to get the pick-up. I was very uncomfortable letting him go as the weather was full of unrest. And sure enough again we were chased down into the basement this time our neighbor, Ken, came with us. We listened to the storm broadcasts for a while, but the guys decided it was safe to head upstairs. Truthfully, I was stuck in the basement. My feet would not take me up those stairs. Each time I heard thunder, I was sure it was another tornado. Eventually, I overcame the fear and headed up. Mike assured me it was all just thunder now and Keith arrived safely with the pick-up.

Mike had sometime called his parents, they lived north of us 2 miles at the homestead. The homestead is a compound that had three houses, 6 grain bins, scales, and multiple barns, sheds and such. It is unusual for a tornado to head directly north, but this one did. The tornado that hit our house hit the farm as well. Uncle Doug's house was hit like ours totaling it. Grandad's house lost its garage, awning, and lots of shingles, Mike's dad's house also sustained some damage. The bins were gone, but the two grain elevator legs still stood. Most of the out buildings were totaled! It was a sickening mess, but nobody was hurt on our farm. The LORD had chosen to protect us all.


(Mike's grandparents' house which would soon be my "new" house)

It wouldn't be long before we learned that homes south and north of us had also been hit.

I remember drinking water, water, water after it was all over. At 2:30 am Mike's cousin came back by for a second time and again offered us a place to sleep. Keith was tucked inside our Blazer which was inside the wrecked shed. Mike would sleep inside the pick-up outside of the house, but I chose to go to Lori's. Maybe I slept 20-30 mins. At 5:30am I was ready to head back to the house. Lori's parents' house was on the farm hit and she was ready to head there, so she gave me a lift back to my mess. Approximately 40 people showed up at our house with boxes, packing paper, horse trailers and helping hands. Mike organized the people, I walked around in a daze. At 5:30 pm I exhaustedly looked around and my entire main floor of my house had been packed up and delivered to nearby sheds. When disaster hits, the people of Kansas know how to give of themselves and help a neighbor out. Neighbors even showed up with more food than the workers could eat. Everyone had water to drink. I think people knew better what to do because of the tornadoes the year before. We were definitely fortunate to have excellent help from such caring individuals.

My other son, Matt, arrived home Sat. afternoon in time to help finish packing up his room. Sunday, we attended church and went out to eat together as a family. Matt wanted to stay, but we insisted he stick to his summer plans and return to his summer internship.