I learned about ALS from Anthony Carbajal on The Ellen show recently.

Amyotrophic lateral sclerosis, or ALS, is a nervous system (neurological) disease that causes muscle weakness and impacts physical function. Someone getting it has 2-5 increasingly challenging years to live before ALS takes over all muscles and the person dies. Terrible.

I was moved by Anthony's story so I went online and found his moving video (Anthony on ALS). The beginning is silly, I think, so if you want to skip it, go 2 minutes in. It is better after that 2 minutes. (more videos to the right)

---
I won't challenge you to an ALS ice bucket challenge which is do it in 24 hours or donate $100. Instead I ask you to learn more about ALS, donate however much you can if you want and are able, or do an ALS ice bucket challenge if you feel it will help spread the word so ALS can get more research funding and work on a cure.

That is why I did it. Yes, I know there are many things to care about. I care about other causes too. I speak about a few of those things on my video (click on image to the right). This is one way I feel I can make a difference, even if small.

Let me know what you care about, and/or what you decide to do about ALS. Maybe you have already done the ALS Ice Bucket Challenge too. If so, tell me about it!

Hugs,
Deb
Here are more videos I watched and appreciated seeing:
- Anthony talks about getting ALS
- the man behind the Ice Bucket Challenge

Here is the website for the ALS Therapy Development Institute in case you want to learn more and/or send a donation.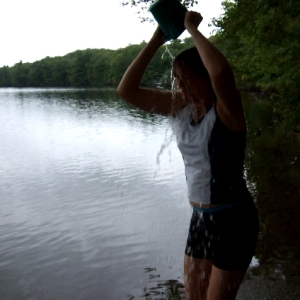 Here I am on the last day of summer, Sept. 21, 2014. It was a dark, late afternoon, raining off and on.

I carried a bucket with ice, a mile or so, to my favorite place to swim in Massachusetts. I added water to the ice then made my video, sharing some things I am grateful for.
Click above to see it (less than a minute long).

The water was cold, both in the bucket and out!...but it was worth it.