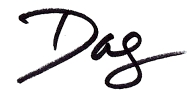 website development
I did web development for clients starting in 2005. (From early 2009 until end of March 2018, I shared a business with my partner Phil: Deep Code Consulting.) In 2017, I began to transition away from this work, stopping completely in April of 2018 to focus on teaching pottery (and volunteer work).
I started my career as a web developer after teaching children how to write websites with straight HTML code (while teaching computer programming in a Montessori elementary and middle school for 17 years).
I enjoyed the collaborative process of fulfilling website dreams my clients had. I used my artistic eye to create visually-pleasing websites. I listened carefully to my clients to learn what their website needs and interests were, and then I designed, coded, developed, and later maintained the sites with feedback from the client through all stages. My goal was to do precise, quick, quality work that was visually appealing and easy to use.
I used Dreamweaver and worked with straight HTML and CSS (cascading style sheets) code. For dynamically generated pages, Excel, PHP and MySQL was used.
These were some of my clients (if not linked below, the client is not using my design anymore):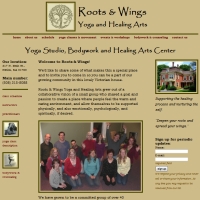 Roots & Wings, a yoga and healing arts center
2008 - 2018

"Deb's work is careful and meticulous and unbelievably efficient in terms of timing. It is a great combination to have Debra's artistic talent (she is first and foremost an artist) and her detailed technical ability come together to provide an aesthetically beautiful and useable product."
- Karen Kuhl, owner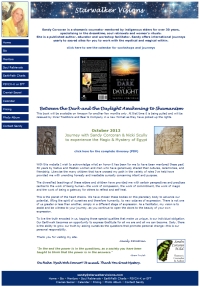 Starwalker Visions, metaphysical healing
2008 - 2018

"It was my great pleasure to work with Deb for the reconstruction of my new website. Deb's eye is keen and her ability to 'see my vision' was unparalleled. Add to that the wonderful suggestions, firm commitment and ability to follow through on everything that was important to me to have represented...I wouldn't recommend anyone else, and in fact have recommended her to other friends and colleagues wishing to bring a new 'look' to their ventures."
- Sandy Corcoran, owner







Hot Elements, interior design and jewelry

2010 - 2018

"When it became apparent that I could no longer operate my business without a website, the hunt was on for a web designer who could
interpret what I needed. Through a friend, I was introduced to Deb and immediately knew that she was the professional designer for me. I loved her style of work, and felt that Deb's artistic talents would help portray me and my interior design business. Without [me] knowing where to start, Deb helped me put together an outline and the rest fell into place. Her ability to ask the right questions, her talent with interpreting the answers, and her creative and ingenious execution was brilliant. We worked extremely well together and I am thrilled with the results!"
- Cheryl Murphy, owner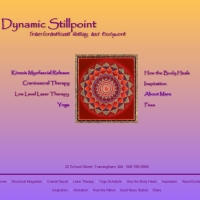 Dynamic Stillpoint, massage therapy, yoga and more
Nov. 2010 - 2018

"My experience working with Deb on two web sites has been a total joy. She has a calm and steady presence and I felt supported in just the right way as my creative process unfolded. As an artist herself, Deb brings an understanding and honoring of the elusive nature of the creative process. I also enjoyed working with Deb because she is a very clear communicator, everything was very well executed as a collective effort. With kindness, professionalism and patience Deb helped me to bring what was in my head, into reality. Her integrity is unsurpassed, and when she says she will do something she does it, and she does it quickly. She listened and understood design ideas with ease, and helped create web sites that I am really happy to share with the world."
- Mare Tomaski, owner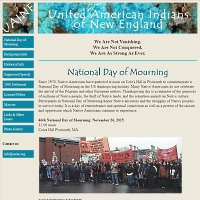 UAINE, United American Indians of New England
Dec. 2014 - 2018?

"UAINE is a Native-led organization of Native people and supporters who fight back against racism and for the freedom of political prisoners. We support Indigenous struggles, not only in New England but throughout the Americas."
- from the website
(All who work for this cause are volunteers.)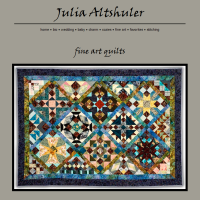 Julia Altshuler, quilts
April 2012 - 2018

"Artistic, friendly and efficient are the words to describe working
with Deb. She left the major decisions to me while lending me the advantage of her expertise and experience. I couldn't be more pleased."
-Lia, owner






Natick Massage
May 2012 - 2018

"Very good Number one! Thank you for your patience; as always I appreciate your help. Love it! Love it love it!!! Perfect! I hardly use that word, but yes!!!"
- Shannon Geoghegan, owner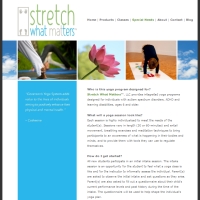 Stretch What Matters, special yoga mats, classes and more
Sept. 2010 - 2015

"After 3+ years of having you as my website developer, I am no longer surprised at your attention to detail, your ability to create solutions when I am ready to expand, your mindful efforts towards training me to handle my own website and the speed at which you deliver! Thank you for helping to making my yoga business flow with ease. I can hardly believe that anyone could develop a website in 1 week. Your hard work enabled me to launch my product on time and for that I am so grateful. I think it is amazing that this site was up and running with only e-mail correspondence. You are my hero!"
- Elizabeth Goranson, M. Ed., Founder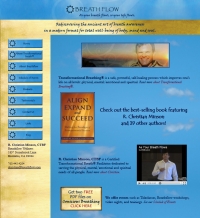 Breathflow Wellness, Transformational Breathing
2009 - 2016

"I have been very pleased with the results that have come from working with Deb. Unlike the majority of web designers in an "affordable" range, Deb is quick and dependable. She listens to what I want and makes intelligent suggestions when she thinks there might be a better way. More often than not she is right, but if I still feel I want my way, she does it. It is so nice not to have to struggle with artistic temperaments or perpetually late work like I have in the past. Deb is flexible and always figuring out how to make what I want work. She has great artistic design and web navigation skills, and best of all--she is quite affordable."
- R. Christian Minson, owner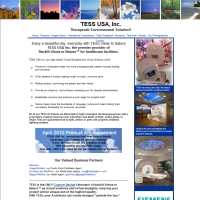 TESS USA Inc, views to nature
2007?- 2010

"I thought it would be a huge undertaking to revamp a professional website that involved multiple levels of information and a huge image library. To my delight, working with Deb made the whole process fluid
and dare I say, enjoyable. Deb confronts any problem, concern and
need with professionalism, humor and detail.

The feedback we have had from architects, hospital staff and designers alike, is that the website is easy to navigate, interesting to read, visually pleasing and full of well documented and technical information."
- Sandy Corcoran, Marketing Manager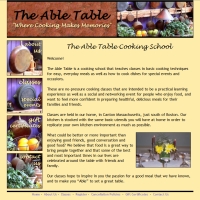 The Able Table, cooking school
April 2010 - 2013

"Deb, you are truly a unique combination of artistic talent and technological know-how. Your assistance, ideas, suggestions and collaborative approach were invaluable in helping two novices create our first site, in record time. I can't tell you enough how pleased we are with our site. It is both visually appealing and completely functional. Your disciplined approach, collaborative nature and client focused attitude, along with corresponding via phone and email made the process simple. We also appreciate your responsiveness and attention to detail that
led us the entire way.
- Karen Neri and Robert LoRe, owners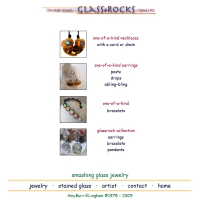 Amy's Glassworks, jewelry & stained glass art
2009 - 2012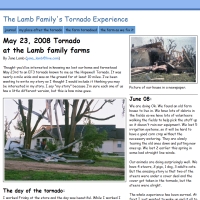 The Lamb Family's Tornado Experience, personal website
2009

"When a tornado totaled my home in May of 2008, I was devastated
and cried everyday for 7 months. Debra Griffin had been a childhood friend of mine and thought it would be helpful for me to have an outlet
for my pain. Deb made me a website with my pictures and stories that shared my experience.

I am nearly illiterate when it comes to computers, and Deb magically made happen what I wasn't sure could be done. One picture I really wanted to share was such a terrible copy, and Deb cleaned it up and made it show a lot of detail. I was so impressed. Sometimes I needed to put the site "on a back burner", Deb was patient to let me have time to think about how I wanted the site accomplished. I am so thrilled with our end results. I appreciated all the helpful advice and was so impressed with her professionalism. We live thousands of miles away from each other, but one would have thought we were neighbors again. Thanks Deb for making my website a reality!"
- Jana



---
contents property of Debra A. Griffin ©1981-2022
no images on this site may be used without permission